The Federalist Papers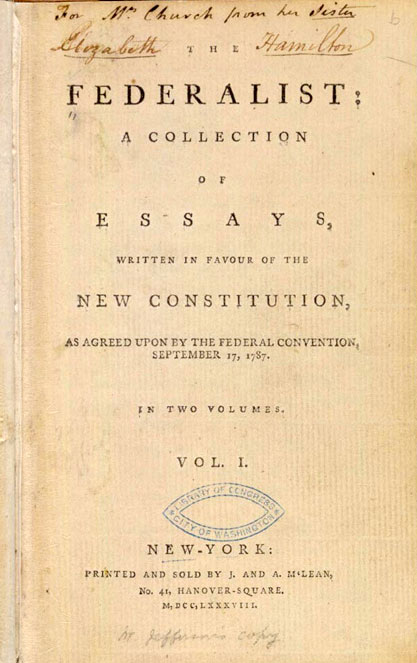 I created this page partly as a tribute to these early American documents and their authors, and am reproducing the essays here because currently most online versions are in PDF form, or unformatted text documents, or polluted with online advertising.

77

essays were published serially in The Independent Journal and The New York Packet between October 1787 and August 1788 under the name "PUBLIUS". In 1788, a compilation of these and eight others was published in two volumes by J. and A. McLean. Titled The Federalist, the two volume collection originally sold for $1. In the 20th century, the collection of 85 essays began to be better known as The Federalist Papers.
History
The proposed Constitution had been submitted to the states for ratification at the end of September 1787. On September 27, 1787, a writer called "Cato" (likely George Clinton) first appeared in the New York press criticising the proposition. "Brutus" (likely Robert Yates) followed on October 18, 1787. These and other articles and public letters critical of the new Constitution would eventually become known as the Anti-Federalist Papers. In response, Alexander Hamilton decided to launch an explanation and defense of the proposed Constitution to the people of the state of New York.
Hamilton recruited John Jay who wrote four strong essays (Federalist 2, 3, 4, and 5), before falling ill and contributing only one more essay, Federalist 64. Hamilton and Jay recruited James Madison who became Hamilton's major collaborator.
Who was Publius?
Hamilton chose the name "Publius" as a tribute to Publius Valerius Publicola, a founder of the Roman Republic. Publius' better-known name, Publicola, meant "friend of the people."
At the time of publication the true authorship of The Federalist was a closely guarded secret. Following Hamilton's death in 1804, a list that he had drafted claiming two-thirds of the papers for himself became public, including some that seemed more likely the work of Madison (No. 49–58, 62, and 63). In 1944 historian Douglass Adair postulated the following assignments of authorship, corroborated in 1964 by a computer analysis of the text:
Alexander Hamilton (51 articles: No. 1, 6–9, 11–13, 15–17, 21–36, 59–61, and 65–85)
James Madison (26 articles: No. 10, 14, 37–58 and 62–63)
John Jay (5 articles: No. 2–5 and 64)
No. 18–20 were the result of a collaboration between Madison and Hamilton