Kanye West's "Gold Digger" came out in 2005, won all kinds of honors, and according to Wikipedia, was one of the top selling singles of the 2000's.
"18 years, 18 years, and on his 18th birthday he found out it wasn't his?!"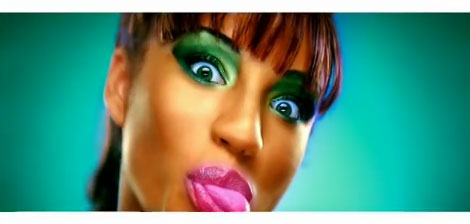 2005 minus 18 equals 1987. That's the year Chris entered into his first contractual agreement with Flying Heart Records. The one that looks similar to that 1988 Nirvana contract. In Tarot 19 is the Sun and 87 is 8+7 = 15. The Devil. That would explain the little boy in the devil outfit who shows up between 1:48 and 1:53 behind the words "18 years."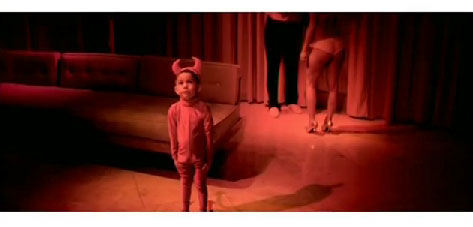 I love the carnival feel and the old-fashioned dancing and magazine covers. The old timey movie sprocket sound at the very beginning hollers back to the beginning of Madonna's "Material Girl."

In Material Girl (1985), a video that hollers back to Diamonds Are A Girls Best Friend, Madonna receives a red-wrapped box containing a diamond necklace. She places it in a bowl of POPCORN.
When a potential suitor overhears her dis'ing these gifts on the phone, he dumps a second box into the trash. At the end of the video, he buys an old brown pickup truck, she gets in, and next thing you know they're kissing. I guess she's a "raw material" girl.
The White Stripes "Hardest Button To Button" (which sounds like "hottest button ta button") video (2003) symbolically demonstrates the cloning that has being going on. Drums are Sun symbols and Fender Twin Reverb amps have part of Chris' rig since the early 1980s. The video was filmed mostly in Manhattan's Upper West Side in an area that looks a lot like Portland.
Between 2:27 and 2:31 a man dressed all in white presents Jack White with a red box.
I got a backyard
With nothing in it
Except a stick
A dog
And a box with something in it
Run DMC's 1986's "It's Tricky" also shows the cloning, and also represents the swindle which occurred at the Seattle Vogue in 1985. Kurt Cobain also tried calling attention to the swindle in songs like Buffy's Pregnant (clone! clone! clone!), Scentless Apprentice (which was tied to the novel Perfume), and Polly.
In "It's Tricky" Caramel tells the police "They took my chain!" and the police say "Don't worry, we'll get it," meaning they will get it for THEMSELVES. So Caramel calls Run DMC on their lilac hotline. Run DMC helps her, but in the end, they too get swindled when the hustlers begin touring the world under the name RUN DMC.
Pocket full of posies. Strike a pose. Vogue.
If I had a magic wand and could wish for anything in this, it would be for my family to be protected from ongoing abuse, to receive reasonable, prompt, and appropriate compensation, and for the blacklisting to end once and for all. It just seems humane.
Wouldn't it be nice if Chris could finally speak to and collaborate with artists of his caliber, and finally be recognized as the top-notch musician and singer/songwriter that he is? Wouldn't it be ok for him to get a little credit for writing, recording, and releasing 30+ albums, even if they were done quickly; sabotaged in the mixing, mastering or album art; even though the whole shebang was rigged. His music still good, and some of his songs are excellent. He's still writing them.
Wouldn't it be fantastic if he could buy himself a home and outfit his own studio? All he's dreaming of right now is an 8 track and the space to use it, and playing shows where more than 20 people show up, but I think he deserves much more that that. What if he could earn money from his life's work? What if he could score movies like he dreams of doing? What if he could have people around him who are honest with him?
Wouldn't it be wonderful if we could just tell the truth?